In the evening relax reading a book in the living room or watching an exciting movie with dimmed indirect lighting ...
... welcome guests to dinner in the dining room ...
... take a bubble bath under the mood light in the bathroom ...
... when it's dark, the orientation light automatically switches on the way to the toilet ...
Each of these and many more claims should meet the lighting. Logically this does not succeed with just one lamp per room. You want to create different moods in each room, so you should equip room by room with the appropriate lighting concept.
Tips for private lighting design
The lighting design begins with the following question:
Which light in which place for which purpose?
To answer this question. Should one have the later furnishing already in the head. The more detailed the better. Accordingly, the lighting should meet the requirements in this room. In order for this to work optimally you should know the task of lighting and you should know that different lights and bulbs have special qualities.
Examples:
Halogen lamps generate cozy light and can be dimmed well

LED lamps are particularly versatile, durable and especially efficient

Spots deliberately highlight objects or areas

LED strips are suitable as orientation light in the floor or on baseboards

In areas where the light is often on, you should use economical LED lights
The light should mainly fulfill three tasks in the living area
The general lighting serves as the basic lighting of the room

The zone light sets specific areas in scene

The mood light and the accent lighting give each room a special atmosphere
You should know ...
... the lighting has a decisive influence on the spatial effect.
Dimmed, warm light creates a cozy feel-good atmosphere.

White, bright light generates attention and has an invigorating effect.

Indirect lighting, scene lighting accents that a space in e inen atmospheric condition put.
Read on to find out how to put every room into your own oasis of well-being, through perfect lighting ...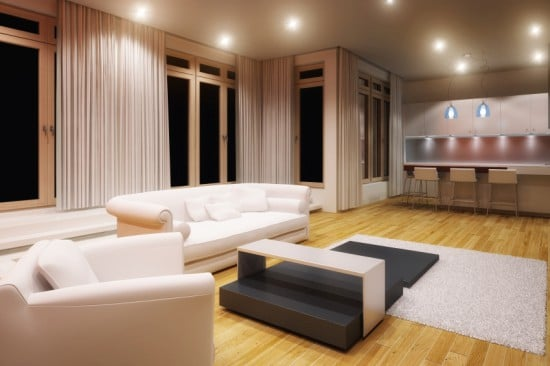 In living rooms and bedrooms should be more comfortable, warm light.
In corridors, stairwells, work rooms, ironing rooms, offices or similar, a bright, neutral light should rather shine.
The higher the Kelvin value of a luminaire, the whiter the light:
Warm, comfortable light has between 2500 and 3800 Kelvin

White, neutral light has between 3800 and 5300 Kelvin

Daylight starts at 5300 Kelvin
The house lighting should set several accents
In the past, a luminaire in the middle was enough to illuminate a room.
Today you want to set different accents for different moods and situations. These are often staged in several stages. Examples are:
Wall lights *

Dimmed lighting (bathroom, living room, bedroom)

Spot lighting for pictures, works of art

reading light

Indirect lighting for a cozy atmosphere

Kitchen lighting over the work area, kitchenette

Work lighting (ironing room, office)

Accents with LED strips *

Floor spotlights *

Stair lighting

LED orientation and night light

Mirror lighting bathroom, wardrobe

starry sky

window lighting

uplight

And and and
When planning the home lighting, the rooms where you are staying a lot should definitely be equipped with several circuits with different light sources.
In rooms or areas where the light burns for more than one to two hours a day, LED lighting should definitely be preferred.
The additional costs for the purchase pay off quickly.
Ideas for the implementation of optimal home lighting, room for room explained
Lighting design living room
The living room is often the focus of visits and should therefore be bright, but it should also implement retreat oasis and comfort in case of need and in this case convey heat.
It therefore requires at least three different (better four or five) light sources with different light colors and adjustable brightness.
Central light source in the middle of the room or above the table can be reached, for example, with a pendant lamp.
Another indirect, dimmed lighting behind bars or with a power rail above the sofa, with a warm light color.
Dimmed wall lights *

with extra switch, which are directed upwards, supplement this in addition. Further, a floor lamp, which is operated via a switched socket, could provide relaxed reading or television light.
Spots in niches, shelves or as picture lighting also set impressive accents. LED strips *

as an illuminated frame in furniture, in corners, on shelves, behind suspended areas could create additional impressive mood.
You may also want to consider using another switched Christmas lights (Christmas tree) outlet.

How to plan your perfect electrical installation in the living room, setting accents without having to carry out expensive retrofits later, read in this article .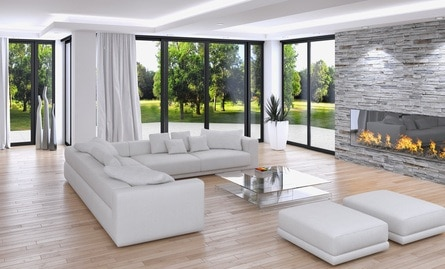 Lighting design dining room
The lighting in the dining room should be bright. Here the family or visit meets for dinner.
The dining table should be brightly lit without dazzling.
The light should not shine in the back of people at the dining table, as this creates a shadow.
A ceiling light that hangs suspended in the middle above the dining table is therefore recommended. This should be switchable in open areas, from multiple locations.
In addition, an extra switchable wall lights are recommended in the dining room

, Spots in installation tables, for pictures or works of art set accents.
Extra mood is again generated by LED strips the shelves, cabinets backlit. Another switched-on Christmas lights (Christmas tree) may be included in the planning.
---
Modern LED lamps in one of Germany's most successful online shops for lamps:
---
Lighting design kitchen
In the kitchen, certain areas such as worktop, cooking island, room lighting should be individually switchable and bright (neutral white).
The work surface could be illuminated with indirect lighting, under the wall cabinets.
Similarly, the cooking area (possibly cooking island), for example, with spotlights or downlights extra switchable and bright. The light should be arranged so that it does not cast shadows when cooking.
A ceiling light as general lighting completes everything perfectly. Impressive accents add additional lighting for cabinets, shelves and drawers.
How to plan your perfect electrical installation in the kitchen and in the dining room, without having to regret it later and to carry out retrofitting, can be found under electrical installation kitchen and dining room .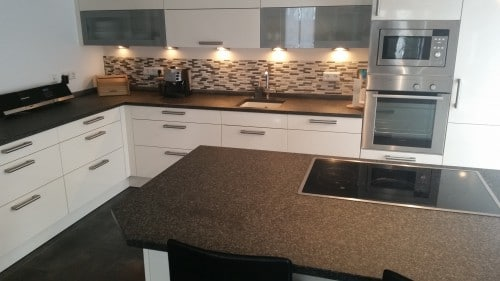 Lighting design bathroom
For the bathroom, white, neutral light and a dimmed, comfortable light should be used.
The lights in the bathroom should be splash-proof in any case.
Before planning, be sure to observe the extra safety precautions in the bathroom.
Look in the mirror area for a glare-free, bright, white light for makeup and shaving. These definitely extra switching, preferably directly under the mirror.
Provide a general lighting in the middle of the bath, if you have a walk-in shower in the separated area, in any case here also provide an extra switchable waterproof lighting.
It is recommended to install a dimmable, cozy (warm light) lighting over the bathtub (spotlight, track, LED), for a cozy atmosphere while bathing.
As a supplement, LED strips could *

on edges or shelf lighting that adds extra accents.
Detailed instructions on the planning of bathroom lighting can be found in the article on bathroom lighting .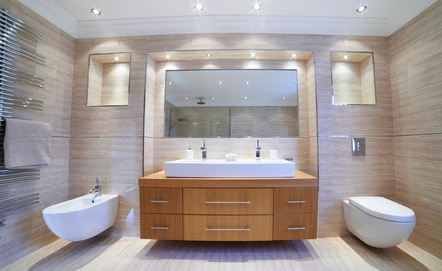 Lighting design in the corridor and staircase
The hallway is the first room on your visit and should therefore also be a business card for the whole house.
The hall should therefore be invitingly bright and friendly. This can be achieved with sufficient ceiling or wall lights, which can be switched from multiple locations.
The wardrobe with mirror should have extra glare-free lighting with switch. The staircase should be lit so that no shadows are thrown when walking and sufficient brightness is available.
If works of art or pictures are particularly staged, this is recommended to illuminate with extra spotlights or spots. Really recommended is also an additional orientation light with LEDs.
For example, several LED recessed spotlights could be installed at a height of 30cm in the hall area, these should be switched with motion detectors.
Especially at night it does not always turn on the bright light, if you only want to go to the bathroom. Likewise, these lights could be installed in the stairwell, in conjunction with staircase lighting

made of LED strips.
Lighting design in the office
In the office, it should be particularly light when working.
By no means should not a cozy light be installed, but a bright, white and eye-friendly light.
The light should not be in the back when sitting at the desk. It should also be arranged so that it does not dazzle when working.
Here is the detailed article about the planning of the office to read.
Lighting in the bedroom
The bedroom is not only used as a bedroom. It is often used as a comfortable reading room in bed, for watching TV or for cuddling and relaxing.
Accordingly, the lighting should be installed.
A general bright, neutral room lighting (ceiling or recessed downlight) that can be switched from the bed and the door ( toggling ).
A cozy indirect, warm white lighting that can be dimmed and switched back from bed and door. This lighting could, for example, be generated by means of a busbar and with spots, which can then be changed again and again.
A reading light, which can only be switched off the bed and installed on each side by means of wall lights to about 1 meter, should not be missing. Should there be a dressing room in the bedroom, a light mirror lighting should be installed here.
Other ideas could be a starry sky with many small LEDs, or even a backlit bed with LED strips

his.
As you plan your perfect electrical installation in the bedroom, without having to regret it later and carry out retrofitting, you will find under Electrical installation bedrooms, children's rooms, guest rooms .
Lighting in the nursery
The nursery is not only for sleeping, but also for living, playing and doing homework.
There should be a general lighting (ceiling or recessed downlight) with interchangeable door and bed.
Furthermore, a cozy, indirect (dimmed) lighting to play , which can be switched from the door and bed again.
An extra bright lighting at the desk for learning and doing homework, is not to be forgotten.
Similarly, should be provided on the bed or a reading light that is permanently installed as a wall light, or alternatively as an inserted bedside lamp.